Welcome to Amsha Bridal
Amsha Bridal Boutique provides you with an incredible selection of award winning designer wedding gowns coupled with an equally friendly and no pressure environment.
Our goal is to provide you with a selection of dresses that you are sure to fall in love with, covering all styles from classic to modern while ensuring you have a unique and unforgettable experience. We believe every bride should be taken on an unforgettable journey to find their dream dress so book your appointment at Amsha Bridal today and give yourself the experience you deserve.
We are proud to announce that we are HiStyle Best Bijou Bridal Award winners
Delighted to announce that Amsha Bridal are a finalist in the 2022 weddingsonline awards! Thank you for all the support and to everyone who voted!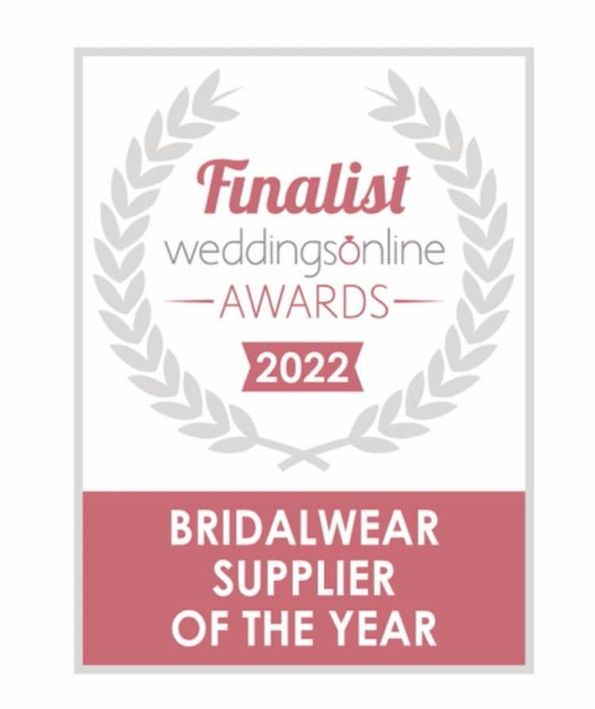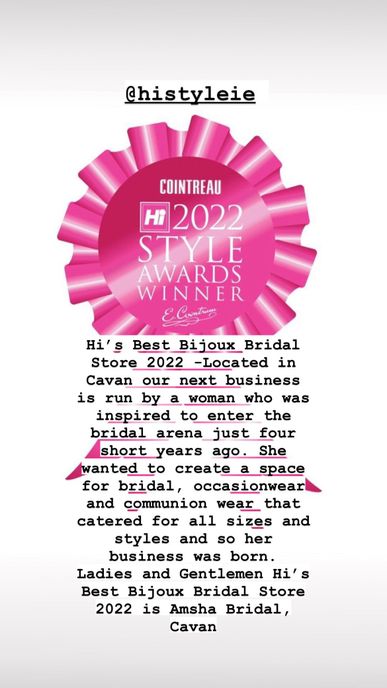 Amsha Bridal FAQ
I need a wedding dress shop near me; where are you based?

Amsha Bridal is a Cavan Wedding Dress Shop providing a range of wedding dresses, Debs dresses, and communion dresses for customers across Ireland.

How should I prepare before wedding dress shopping?

Before shopping for a wedding dress, it can be beneficial to have a look online or in a magazine to see what kind of wedding dress style you might like. It can also be beneficial to wear plain undergarments and minimal makeup. Here at Amsha Bridal, we encourage all brides, whether prepared or unprepared, to visit our boutique, where we can help with professional advice and recommendations on different dress styles and what would suit you.

Do you cater for plus-size women?

Yes, absolutely. Amsha Bridal is a fully size-inclusive wedding dress supplier, with dresses ranging from size 4 to size 30.